ANGUS NATIONAL SALE 2012
Posted by: Sarah - Angus NZ, 1 year ago, on 8th Jun, 2012 11:08am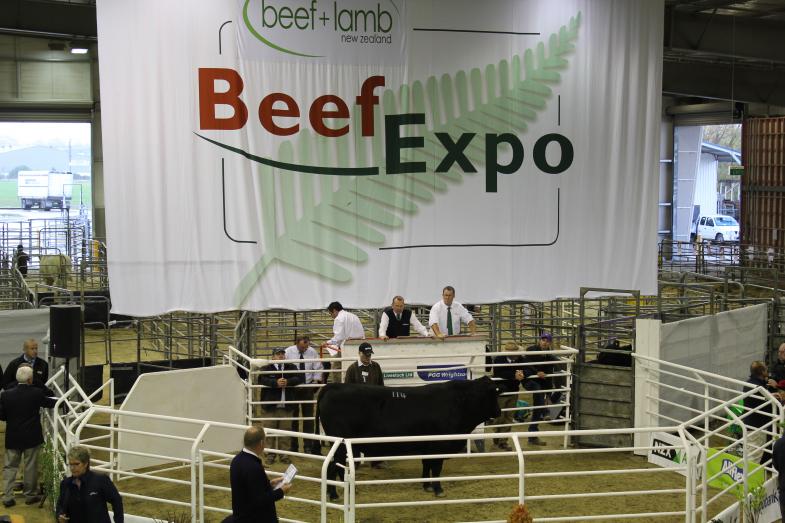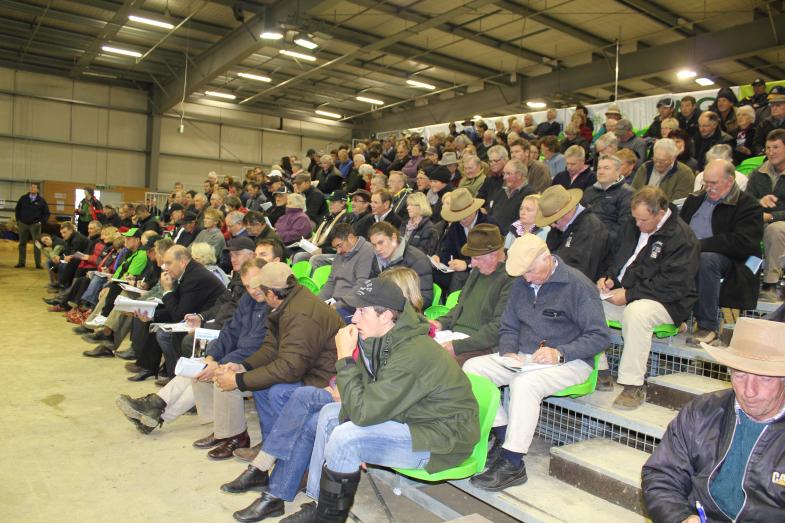 This year's Angus National Sale at the Beef + Lamb Beef Expo in Feilding saw a smaller number of Bulls through the ring than last year; however, the sale ring was packed, predominantly with commercial buyers, and all but two were sold to new homes.
As with previous years the sale was strongly supported by the bulls from the FMG Angus NZ Bull Evaluation Unit which has seen a group of 35 bulls run as one mob on a property in the Manawatu from late May last year.
The Supreme Champion Angus Award for 2012 was won by Allan and Patricia Hayward's Oakview Prince 44 from Cambridge, a strong 2 year old bull that exhibited strength of spine and sold to Farnham Station from Pippybank.
The Reserve Champion award went to Neil and Rose Sanderson's Fossil Creek Lightning 2-10 from Oamaru. This 2 year old bull topped the Angus National Sale this year, going to Tangihau Angus Stud in Gisborne for the highest price of $24,000.
Neil and Rose, who run their herd of 200 registered Angus cattle on a property near Ngapara, Oamaru said that this bull, Fossil Creek Lightening 2-10 had been a stand-out calf from the beginning and was structurally very sound.
"His temperament is outstanding and we are very satisfied with the price we received for him" said Neil.
The coveted "Performance Award" awarded by PGG Wrightson to the best all-round animal phenotypically and genetically went to the top performing bull from the FMG BEU, Motere Defiance A64, a bull that performed strongly throughout the year in this group.
Another stand-out sale was Stokman Dash G89 of Stokman Angus Stud in Rotorua – a yearling bull that went to Peter Matthews of the Otoka Angus Stud in Waipukurau for 15,500.
With 27 Bulls sold and a gross turnover of $206,091 the average for this year was $7633.
2012 Angus Sale Results
| | | | |
| --- | --- | --- | --- |
| Lot | Vendor | Purchaser | Sale Price |
| 108 | - | - | withdrawn |
| 109 | Simpson | Mangatiritiri Stn | 4200 |
| 110 | Sanderson | Tautane stn | 8200 |
| 111 | - | - | withdrawn |
| 112 | Sanderson | Tautane Stn | 8500 |
| 113 | Sanderson | Tangihau Angus | 24,000* |
| 114 | Hayward | Farnham Stn | 7000 |
| 115 | Hayward | Okarae Stn | 6000 |
| 116 | Hayward | Tautane Stn | 7000 |
| 117 | McWilliam | Mangatiritiri Stn | 4200 |
| 118 | Koberstein | Passed | - |
| 119 | Fouhy | Te Paki Stn | 4200 |
| 120 | Peters | Te Paki Stn | 4200 |
| 121 | Herries | Waterfall Angus | 8200* |
| 122 | Crawshaw | Okarae Stn | 7500 |
| 123 | Chisnall | DP Pound | 4800 |
| 124 | Williams H | Freethlands Stn | 9500 |
| 125 | Jolly | Minzion Farms | 8200 |
| 126 | Pharazyn | J Williams | 11,000 |
| 127 | Jolly | Minzion Farms | 9000 |
| 128 | Murray | CM Dalzell | 8200 |
| 129 | Jenkins | DP Pound | 7500 |
| 130 | Williams C | Okarae Stn | 5200 |
| 131 | Stevens | Alta Farms | 6000 |
| 132 | Powdrell | A Donaldson | 8000 |
| 133 | Turner | Wells Family Farms | 4700 |
| 134 | Dowding | Lady Margaret Trotter | 9500 |
| 135 | Fogarty | Passed | - |
| 136 | Stokman | Otoka Angus | 15,500* |
| 137 | Stokman | G Crawford | 3700 |
| 138 | Gibbs | G Crawford | 2100 |
| 139 | Bone | - | - |
* sold to transfer
Quick Reference Statistics;
| | | | | | | | | | |
| --- | --- | --- | --- | --- | --- | --- | --- | --- | --- |
| | 2004 | 2005 | 2006 | 2007 | 2008 | 2009 | 2010 | 2011 | 2012 |
| Sale Average | 11030 | 10190 | 8417 | 10872 | 7553 | 6648 | 8750 | 8378 | 7633 |
| Bulls passed | 5 | 3 | 7 | 2 | 0 | 1 | 3 | 3 | 2 |
| Bulls withdrawn | 2 | 1 | 3 | 5 | 7 | 3 | 3 | 5 | 2 |
| Sold to transfer * | 10 | 9 | 9 | 15 | 20 | 11 | 14 | 13 | 3 |
| Sold commercially | 10 | 21 | 15 | 20 | 16 | 17 | 24 | 19 | 24 |
| Sold Indep agents | 7 | 7 | 1 | 12 | 3 | 6 | 13 | 2 | 5 |