2014 Ward Tour: Gisborne/East Coast
23-26th March 2014. NOTE: The will be NO Ward Tour next year (2013) due to the PGG Wrightson World Angus Forum being hosted here in NZ during October.
2012 Ward Tour: Nelson/Marlborough
With clear blue skies and barely a breathe of wind each day the weather couldn't have been kinder for this year's Ward Tour through the Nelson/Marlborough region.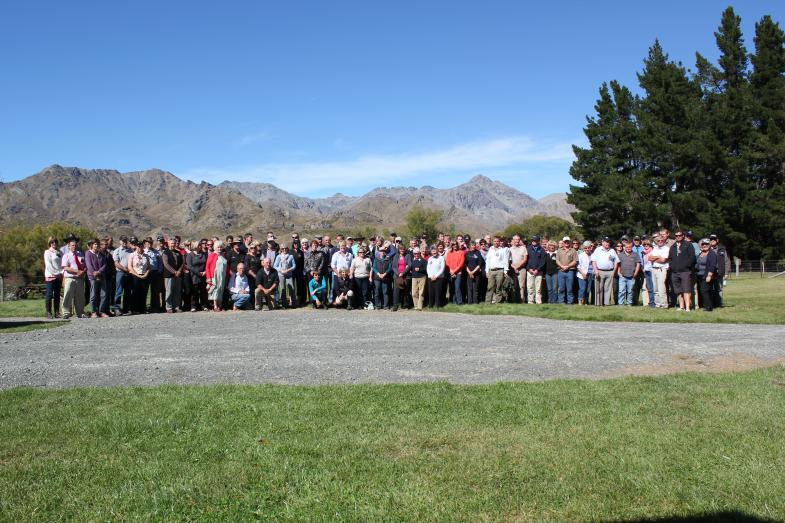 As with much of New Zealand the Malborough/Nelson region is comprised of dry coastal land to rugged high country and everything in between. Farming and land use is hugely diverse with sheep and beef, dairy, viticulture, horticulture, forestry and marine farming all found within the region.
The 'explosion' of the grape industry has caused stock numbers to fall quite significantly in recent years. Twenty years back the Malborough Ewe fairs' had 50,000 head of stock but last year there was only one fair with just 3500 sold. Cattle numbers have not seen such a drastic decline and still serve as a valuable clean-up tool on drier hill country in the spring.
Geographically the region is huge but in comparison to the rest of the country stocking rates are actually very low. However, the Angus breed is well represented by our members in the area and we had the chance to visit a fantastic group of stations, some of which were well of the beaten track and sights we wouldn't usually get to see.
The tour kicked off with a welcome dinner at Civic Centre where we were warmly welcomed by Ward Tour Chairman Paul Hickman and treated to a meal of Angus fillet and beef cheek which was a pleasant new experience for many.
The first stop on Monday morning was Andy and Michelle Peter's Stud where there was an impressive display of Bulls, Cow and Calf's and yearlings. In addition to their stud cattle a lot of time is spent over-seeing their vineyard business which has grown gradually since they introduced the vines in 2003.
Further up the road we visited 'The Waterfall' – the property of Charles and Clare Waddy. Currently comprising of 90 cows plus their replacements the Angus Stud was founded back in 1945. With the highest point of the farm at 800 metres above sea level this is some seriously steep hill country and the Bulls are known for their ability to cope with the terrain.
Back in the buses and off down the coast we went to John Murrays 'Woodbank Stud' arriving just in time for a beautiful lunch with fresh crayfish on the menu – superb!
In its third generation, the Murrays have a long association with breeding Angus cattle and today the herd consists of 360 cows including 100 heifers that calve at two years old.
The country is typical of the dry Malborough East Coast environment which certainly challenges the cattle. However, those that were on display indicate that they come through very well.
The last stop for the day was Taimate Angus which has been in the Hickman family since 1905. With an average rainfall of only 600ml conditions are very dry which certainly poses its challenges. Despite this, the Angus Stud which was established in 1956 has continued to grow with 240 females mated last spring. Fifty 2 year olds and seventy yearlings sold in Bull Sales in 2011.
Dinner that evening was sponsored by Merial Ancare and held at Drylands winery where we were greeted with champagne and a superb selection of Canapés. The food was nothing short of a feast and everyone went to bed with very full tummies.
Tuesday dawned another beautiful day and it was an early start as we headed for the Awatere Valley with a morning tea stop at Upcot Station.
As we continued on, winding into the Valley we arrived at the famous Molesworth Station where we were greeted by Alan Clark of Landcorp. After a picnic style lunch in the sun everyone piled into 4-wheel drive mini buses and set off for an afternoon drive through Molesworth.
This took us up the Akeron River toward Hanmer, crossing the Clarence shortly before climbing over Jolly's Pass into the Hanmer Basin.
This is truly a trip to remember, vast rugged country punctuated by very broad open valleys that is home to the 9000 cattle that are run on this 450,000 acre iconic station.
We unfortunately saw none of the Angus herd on Molesworth as they were mustered up around Trandal for calf marking. A pity for everyone but unavoidable when the work has to be done.
It was disappointing to see the sovions spread on both broom and wilding points on the Jolly Pass section of the property,DOC need to deal with this quickly before large traits of country will be lost.
Arriving in Hanmer at about 5pm there was time enough for people to enjoy the last of the sunshine or fit in a soak at the thermal hot springs before the NZ Farmers Livestock 'happy hour' and the evening meal in the hotel restaurant which was sponsored by Landcorp and Rabobank.
Rebecca Redmond from Rabobank gave a very reassuring talk on the Industries outlook over the coming years.
We awoke on Wednesday to yet another stunning morning and left Hanmer for the final leg of the trip through Rainbow Station to Nelson.
Lake Tennyson was a picture perfect spot to stop for morning tea and while the sun was shining bright there was certainly a chill in the air (not the best day to wear shorts!).
The Rainbow Road is a 'wilderness driving' experience across private land that connects Hanmer Springs to St Arnaud. It was an absolutely beautiful drive and just remarkable to see the diversity of the land as it transitions from craggy, beech-covered mountains to flowing tussock lands.
We were lucky enough to have Farm Manager Dave McEwan commentate our drive through the station – he has done an outstanding job and improving the country and maintaining the many acres of land.
The tour ended at Martin Farming where Richard, Denise, Craig and Rosanna put on a fantastic display of cattle and went the extra mile by putting on helicopter flights for those interested to get an aerial view of the country they run their cows on which was quite different to where we viewed the cattle!
It was a real shame that many had to leave the tour directly after the cattle viewing because the Martin family turned on a fantastic finish to the Nelson/Malborough tour.
Those that were left enjoyed a beautiful meal of AngusPure on a stunning Nelson evening.
All of those involved with organising this year's tour did a fantastic job and should be commended on their efforts.
Fundraising for Angus youth was done in the way of raffles this year with a prize being drawn at each stop along the tour. Around $10,500 was raised over the three days.
It was a pleasure to have the President, Vice President and General Manager of Angus Australia come along on the tour and I am sure that they were blown away with what they saw.
All in all it was a fantastic trip through some magnificent country. We can all look forward to the Gisborne Ward Tour next year.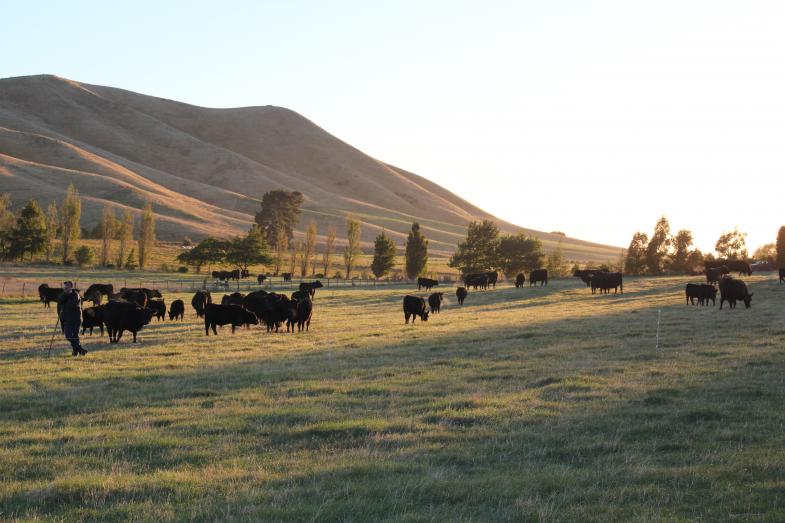 Previous Ward Tour reports in the Ward Tour Archive