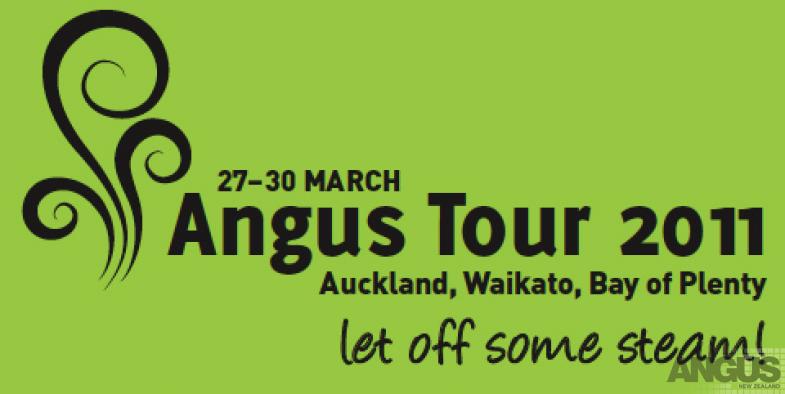 When the weather is bright, sunny and warm there isn't a better part of the New Zealand to be than the Bay of Plenty and that was where members were invited to visit for the 2011 ward Tour.

In the early Autumn – March 27th – 30th, members from all parts of New Zealand congregated to enjoy superb weather for this year's visit to the Auckland/Waikato/Bay of Plenty region whose turn it was to host members of Angus NZ to their part of the world and show their cattle and the region off to.

Centred predominantly in Rotorua (coincidentally the centre for the 2013 World Angus Forum visit to New Zealand) this was a very friendly and fun tour to be part of. Around 80 people took up the offer to visit the region and would have gone away very happy to have been there amongst an area that played a big part in the early development of New Zealand.

10 properties made up the tour for the 3 day trip with 9 of our own Angus members' herds visited plus the Rotomahana herd on the Landcorp property at Taupo.

Known as Ward 2, this is a very diverse ward, with a lot of horticultural crops, exotic fruits (Kiwi fruit, Avocados, citrus), gold mines, fishing tourism and a very large numbers of dairy herds on the Eastern flank and more traditional farming in the Waikato/Auckland hill country area. Beef cattle are certainly in the minority but our resident members do a very good job representing Angus in this area and supply a good number of Angus bulls to clients in hill country areas of the Coromandel and western Waikato and to the dairy industry.

Hospitality was as is usual with Angus Ward Tours of the highest standard, with the highlight for me being the main dinner at the Skyline Restaurant, high above Rotorua , reachable only by Gondola. Landcorp kindly sponsored this dinner for patrons on the Tour, a wonderful gesture which signals a willingness to work closely with Angus New Zealand in breeding the best Angus genetics.

Stretching from Taupo in the South right through to Auckland in the North we saw all of the ward in our 3 days on the buses, stopping the night in Auckland on Tuesday night before returning to Rotorua to disperse.

Diverse and challenging would be an apt description to describe what it is our fellow members have in this area for their traditional beef farming, but that was dispelled somewhat when we visited Roger and Sue Matthews at Matapara who run their Angus operation in conjunction with sheep and a Kiwi fruit orchard, the Stokman family run their angus herd alongside a very successful dairy operation and the Kauri Downs stud of David Fogarty compliments his Angus cattle with a broiler chicken farming operation for Ingham poultry, a multi-national company based in Australia..

For so many of our breeders it would be unknown that in this region the bread and butter market for Angus genetics is the dairy industry and if nothing else it is a good indication of the opportunities the dairy industry offers to our breeders. There are a lot more Angus bulls used in the dairy industry than most would admit, and for this group it forms the greater part of their opportunity to market their genetics which is a growing market for all bull producers.

Once again thank you to the members of the Ward 2 region for a very enjoyable tour.
Being a slightly smaller tour makes it all the more fun to go on because everybody gets to know each other really well. It is a beautiful part of the country and it showed itself off brilliantly during the time of the 2011 Angus ward tour.

Previous Ward Tour reports in the Ward Tour Archive

The official website of the Angus New Zealand Association Inc.
75 South Street, Feilding 4702, New Zealand.
P. +64 6 323 4484 F. +64 6 323 3878
E-mail. manager@angusnz.com



Sarah Beetham: Communications & Brand Development
PO Box 503, 75 South Street, Feilding, New Zealand 4740
P. +64 6 323 4484 F. +64 6 323 3878 M. 027 510 2485
E-mail. sarah@angusnz.com

Site maintained by: Pivot Design, PBBnz. Feilding